Angular.js Web Development
AngularJS is the latest JavaScript framework, developed by Google since it made front-end development easier. It helps the developers to extend the vocabulary of HTML for the Web Apps and provides an environment to develop quickly and easily expressive. In this, the developers do not have to depend upon the Bootstraps or jQuery. This is best for interactive apps needed by the business houses, as it is feature-rich JavaScript MVC framework.

AngularJS Web Application Development

The popular AngularJS Development Company byPeople Technologies helps in the development of robust and scalable mobile and web applications for your business. The apps developed under AngularJS are easy to test and possess flexibility to be extended as per the need of extra features. Our team of developers use easy coding standards that develop AngularJS Mobile App and web apps within a stipulated time. The skilled developers of our company write clean codes that are free from any kind of boilerplates.

Moreover, AngularJS has solved many technical issues regarding the User Interface that was seen in the JQuery. Our experts are skilled enough to use concepts related to AngularJS like route configurations, HTML views, filters, globalization, inline templates, etc. Our company also provides a model for the clientele, which is MVC (Model View Controller) for simplifying development and testing of the web or mobile applications. We make usage of the cutting-edge technology and tools that help our team to offer the best AngularJS development services among our competitors.
Our AngularJS developers are skilled enough to provide one of its kind AngularJS development services to our clientele companies.
They are experts in the development of websites in a convenient and faster way.
Our team of developers also possesses versatile technical skills and hands-on experience with languages like Ruby, HTML5, CSS3, JQuery, AJAX, Node.JS, etc.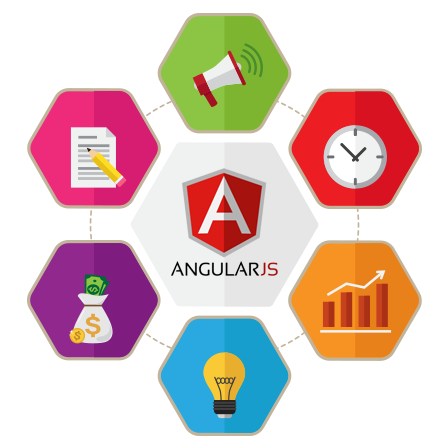 Rated
4.8 out of 5.0 for Angular JS Development by 550+Clients on Over 600+ Projects at Different Market Place
Save