What is Google Assistant?
We have all heard about Amazon Alexa, Apple Siri, and Microsoft Cortana which has now been taken by Google with its own voice assistant: Google Assistant.
Google first revealed Assistant at Google I/O in May 2016, launched it on the Google Pixel and Pixel XL phones, and brought it to Google Home, and then Android Wear 2.0, before starting the rollout to other phones running Android Nougat.
Now, more than a year later, Google has introduced new hardware, all of which has Assistant built-in. There are new Pixel phones, Home speakers, and in-ear headphones.
Google Assistant is Google's voice assistant. It has now grown out of Google Now, and is available on a range of recent Android devices and now the iPhone.
You can use Google Assistant to trigger apps and devices, ask all kinds of questions, make plans, and carry out a variety of useful tasks.
What is Google Assistant?
Google Assistant is an intelligent personal assistant, considered an upgrade of Google Now – designed to be personal – as well as an expansion of Google's existing "OK Google" voice controls.
For the users who are familiar with the Android devices, they'll know that the Google Now feature smartly pulls out relevant information for us. It knows where you work, and it knows your meeting locations and travel plans, the sports teams you like, and what interests you. This data is presented through reminders on your Android device.
The Google Assistant is accessed with the "OK Google" keyword. You can ask a question to Google Assistant and then follow up questions according to your need. The "OK Google" side covers voice commands, voice searching, and voice-activated device control, letting you do things like sending messages, check appointments and so on your Android device, just like Apple's Siri on an iPhone or iPad.
Which devices offer Google Assistant?
Google Assistant is available for Android Wear devices via Android Wear 2.0, Android TV via Nvidia Shield (which are soon to be Sony TVs), and Android Auto. Originally, Google said Assistant would be exclusive to the Pixel phones, but this soon changed, with the company confirming it would come to Marshmallow and Nougat devices also.
Since then, Assistant has also come in the devices like the LG G6, Samsung Galaxy S8, and OnePlus 5. However, the full experience is deeply integrated into the Pixel devices, so you'll get an awful lot more out of it than you can on other Android devices.
Why Google Assistant?
Google believes that, just as the tech world moved from web to mobile, similarly the next stage in that evolution is to move from mobile to AI.
As hardware becomes more commoditized, smartphone manufacturers must compete on what they can provide through next-generation software and AI. Google Assistant is embedded in Google Pixel devices, but it also works in its smart chat app, Allo and is a key part of its smart home hub, Google Home.
Other companies are following a similar trajectory. Samsung recently purchased Viv Labs and plans in its devices and home appliances. Microsoft put Cortana in the Xbox One, and Apple is integrating Siri into more of its products as well.
How to launch Google Assistant?
First, you will have to activate it and set up your Google Assistant on your Android device.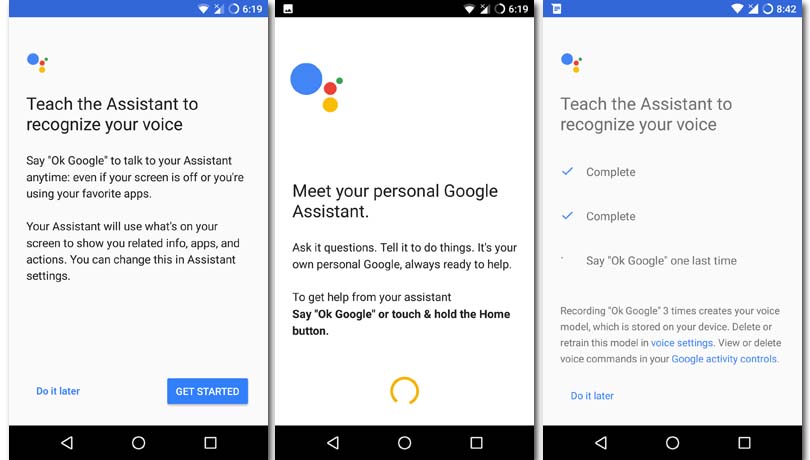 Following are the steps for launching Google Assistant App –
Start by unlocking your screen and giving the Home button a lengthy, several-second press (if your device is listening, you can also just say "OK Google"). This will bring up a new window which will say, "Meet your personal Google Assistant". If you've already set up your Assistant, the window will take you to the Assistant menu instead.
First-time users will need to press Continue and give Google Assistant access to their email and apps.
Afterward, you will be taken through a short voice configuration process that has you say, "OK, Google" a few times. Once done, Assistant should be ready to go!
If your phone is shared with more than one Google Account, make sure you're using your account before continuing.
You can change accounts at any time by pressing the Home button until the Assistant menu appears, choosing Settings, and heading to Accounts.
So, How can we ask questions to Google Assistant?
With "Ok Google" as your voice command the Google Assistant will get activated. Google Assistant uses a message screen for text answers and links, and voice features for answering questions out loud — you can type questions too if you prefer.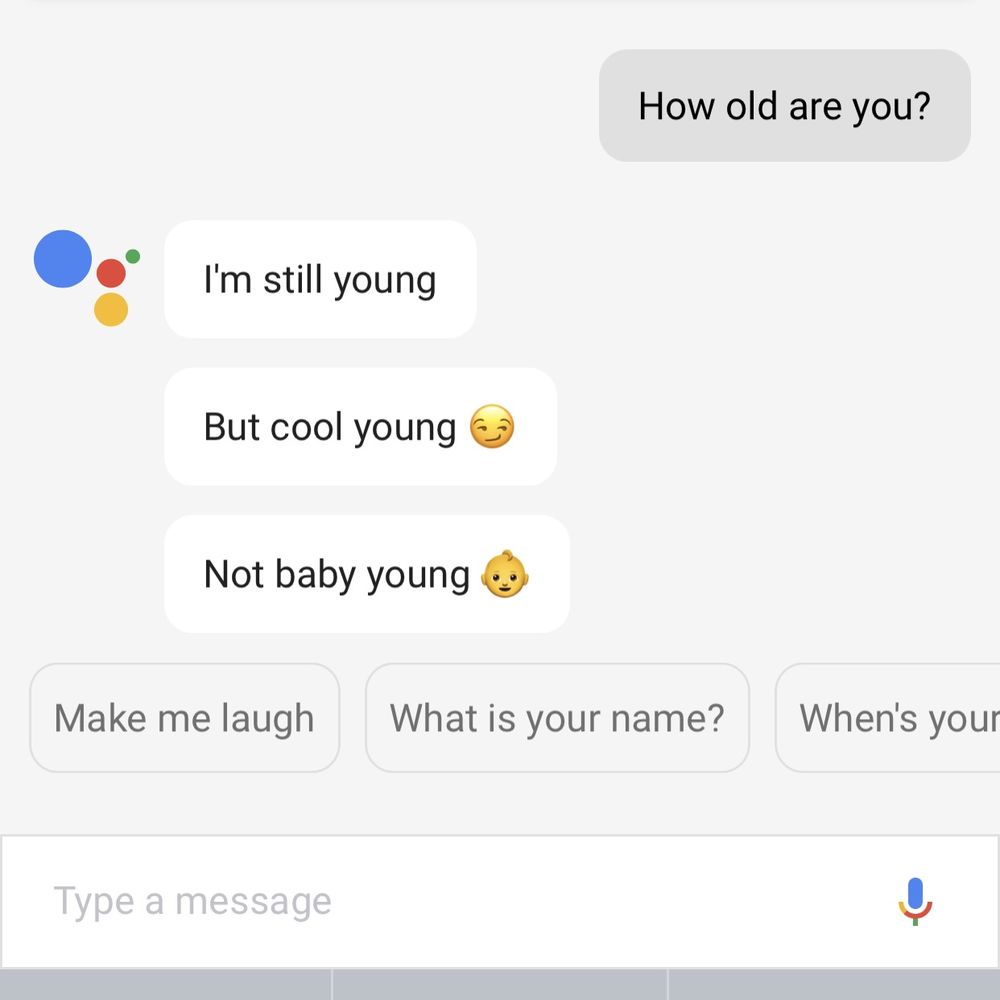 Google gives you a few suggestions about what to try out, and if you have experience with voice assistants, then you know the sort of questions that it can answer.
This includes questions like –
What is the weather like today?
How far is it to Sydney?
What's the latest business news?
What are the latest sports scores today?
How old are you?
Google Assistant is particularly good at follow-up questions and picking up a context. You can ask, "Who sang Born in the USA?" Then follow it up with, "What year did he release it?" and Google will know you are still talking about Bruce Springsteen. It's okay if your wordings are not precise.
You can also accomplish many voice commands, such as:
Ask the Assistant to "Set a reminder" for a specific day and time.
"Show photos" of specific geo-tagged places or people.
"Show emails" about specific topics, trips, meetings, social posts, or anything else that may be stored in your Gmail.
Connect a variety of smart home devices.
Play music for service or storage.
Ask a variety of map/direction-based questions.
Open a specific app.
Create shortcuts for more complex tasks.
Customize Briefings and News
Google Assistant offers you a "My Day" briefing on demand, which basically represents a verbal news and event report. You can — and probably should — customize this briefing. Press the Home button until the Assistant window opens, and select the menu icon in the upper-right corner. From here, go to Settings and select My Day.
On the My Day screen, you'll see a number of options which includes checking, unchecking, and customizing. These include commute updates, weather reports, reminders pertaining to calendar events, and more. Anything that is checked will be included in your report, so only check the things you really want to hear about at the start of the day.
Your customized briefing will begin by just saying "Tell me about my day".
Google Assistant can order products from Target through Google Express
Google is making it a little easier to order products through Assistant. The companies have announced a partnership that will see users able to search for, reserve, and buy products from Target's catalog. But you will need a Google Express account to do so, and it'll only work in covered areas, but if you fit those criteria you'll be able to say things like "OK Google, order burger from Target."
Google Assistant can now take screenshots
While you can't ask Google Assistant in a voice message to take a screenshot just yet, there is still a way to take a screenshot with Assistant. If you're on a device that isn't the Google Pixel, you can press and hold the home button to bring up the Screen Search feature — formally Now on Tap — which has an option to take and share screenshots.
This method is easier than the old method of holding down the volume down and power button to take a screenshot — it also cropped out the navigation buttons and status bar out of the image.
Screen Search has been available, but the screenshot option wasn't available since Google added the Assistant on the Pixel. Now, when you press and hold the home button and swipe up, you'll see an option to "Share Screenshot." This screenshot, like the method on non-Pixel devices, crops out the navigation and status bars.
Google is expanding Assistant's language support
Initially, Google Assistant supported only English, since then Google has added a number of other languages. Currently, the system can respond in English, French, German, Hindi, Indonesia, Japanese, Portuguese, and Spanish.
That's a pretty wide range of languages, and it's only likely that the expansion will continue.
Conclusion
Google Assistant is handy for Android users, as they will get easier ways to access things based on their searching. Try it and enjoy awesome results with smart Google.
We are leading iPhone & Android app development company. Hire our experienced app developers to develop outstanding android & iPhone apps for your clients. We believing to provide quality work with effective rates.